International PMO Day took place for the first time on 9th May 2023. It is a day all about highlighting, promoting, appreciating, and celebrating PMOs in organizations today. You can find out more about it on the International PMO Day website.
The House of PMO celebrated in several different ways, including a live stream celebration session; an invitation to join one organisation's community of practice day and of course with cake!
Here are a selection of different ways PMO practitioners were getting involved and hopefully it will give you some inspiration for next year – the next one takes place on 14th May 2024 (always the second Tuesday in May)
Inspiring PMO Practitioners to Write
A well-structured PMO can revolutionize the way an organization plans, executes, and delivers projects, driving success and innovation.
Theresa got inspired to write about the Power of the PMO, "Their tireless efforts not only drive project success but also contribute to the growth and innovation of our organizations." [Read more]
Joey got all poetic and tapped into the power of ChatGPT [Read more]
Reed Professional Services shared their insights on why every organisation needs a PMO [Read more]
Planview shared a PMO case study that focused on how PMOs can help support organizations – and the benefits they bring [Read more]
Benefits such as increased productivity, consistency, and top-down strategic alignment – already seen as quite valuable in a good economy – are even more crucial as companies look for new ways to increase efficiency and reduce costs in today's down economy.
House of PMO corporate members – Airwalk Reply also shared their thoughts with an article on "What's in a Name, It's Still PMO Right?" [Read more] , "provide just some insights in value of the PMO, as well as showcase its ability to evolve and adapt to work with others to ensure that together value is delivered to the business and stakeholders."
The Celebration Session from House of PMO
PMOs Get on Video
It was great to see some PMOs take the plunge and get in front of the camera to share their celebrations for International PMO Day. Here are North West Ambulance Service in the UK and
And Cantium Business Solutions, also in the UK:
Team Photos
Some great team photos showed how PMO practitioners were celebrating today. It was also an opportunity to namecheck those working hard in their PMOs.
A lot of the messages and sharing are also a great way to market the PMO to the wider organisation and to the wider world. A chance to show what the PMO does and the people behind the scenes.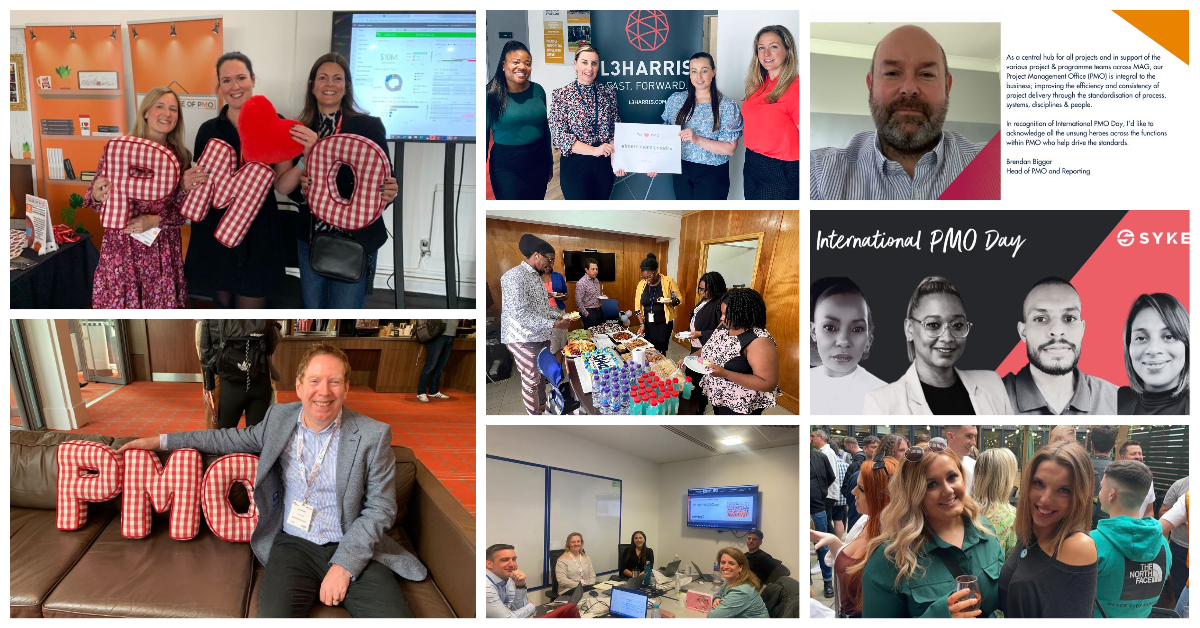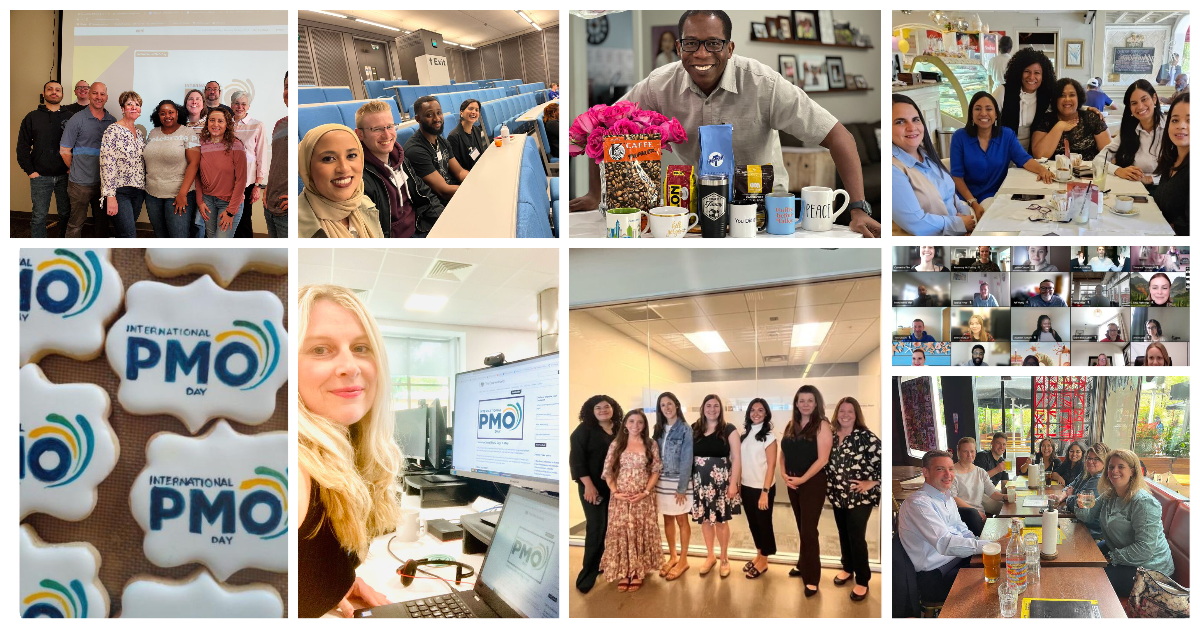 There were plenty of social media posts which were shared from the organisation's accounts too – with the organisation thanking the PMO for the work they do. Those PMOs should be celebrated for having great visibility within the organisation!
Sugar Rush!
One of the nicest ways to celebrate was cake! This one from the award-winning PMO in Monserrat took the top prize!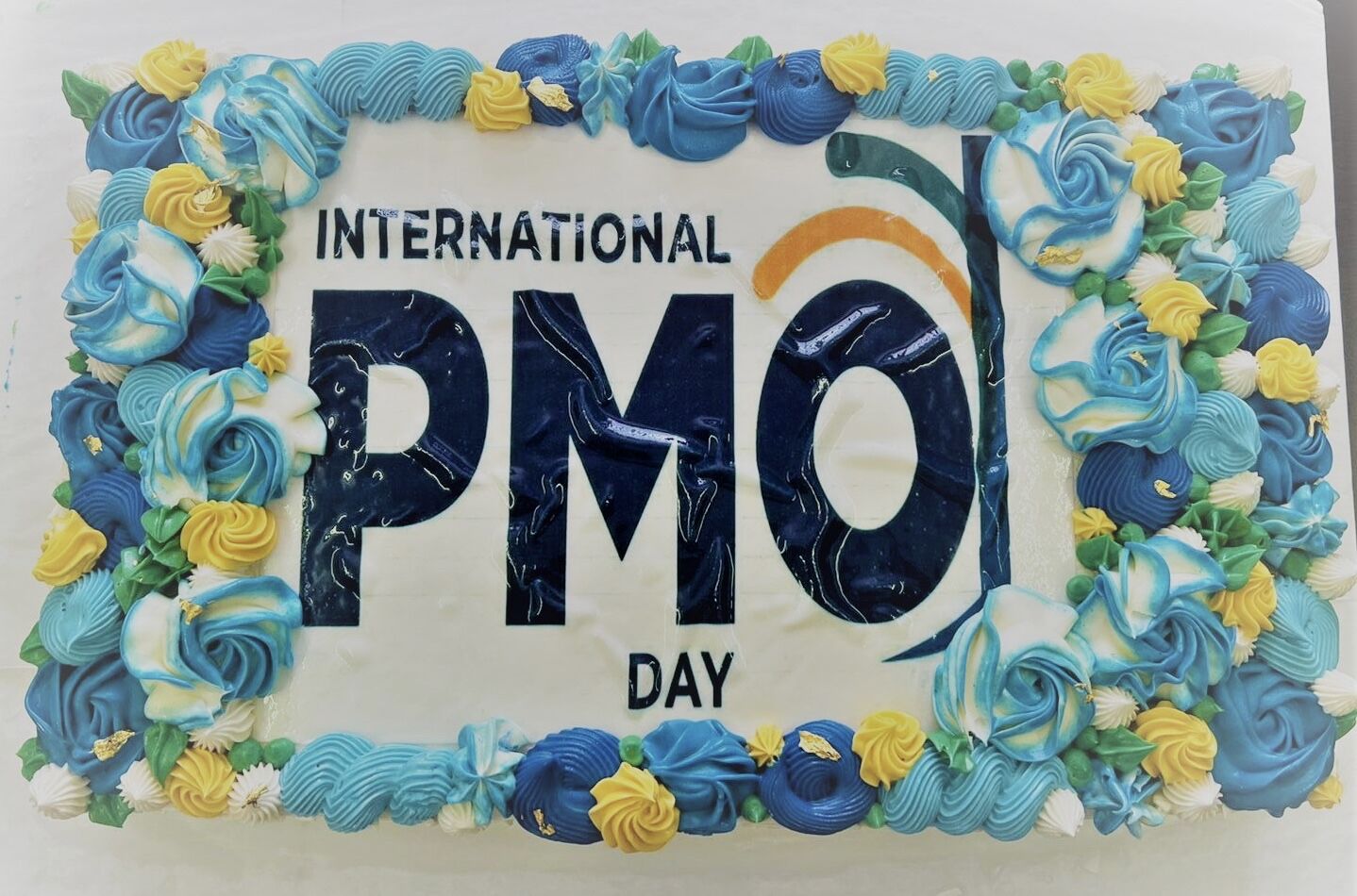 The Project Leader Celebrates
Joe over in Arizona, and founder of The Project Leader, also celebrated the day with a live session:
Final Thoughts
When we first floated the idea of an International PMO Day – with other PMO leaders and influencers at the PMO Conference in 2022 – we wanted it to be a day where the PMO community took it and ran with it.
We've seen individuals, teams, organisations and those companies that provide services and products to the PMO – all come together and just flood the social streams with positive news and insights about PMO.
International PMO Day is all about highlighting, promoting, appreciating, and celebrating PMOs in organizations today. And we think in the first year we certainly saw that.
So what next for International PMO Day?
If you or your PMO would like to be more actively involved in International PMO Day, get in touch and express your interest. We are always interested in new, bigger and better ways we can champion the PMO community and you can take an active role in that.